Centre Caribéen de
Langues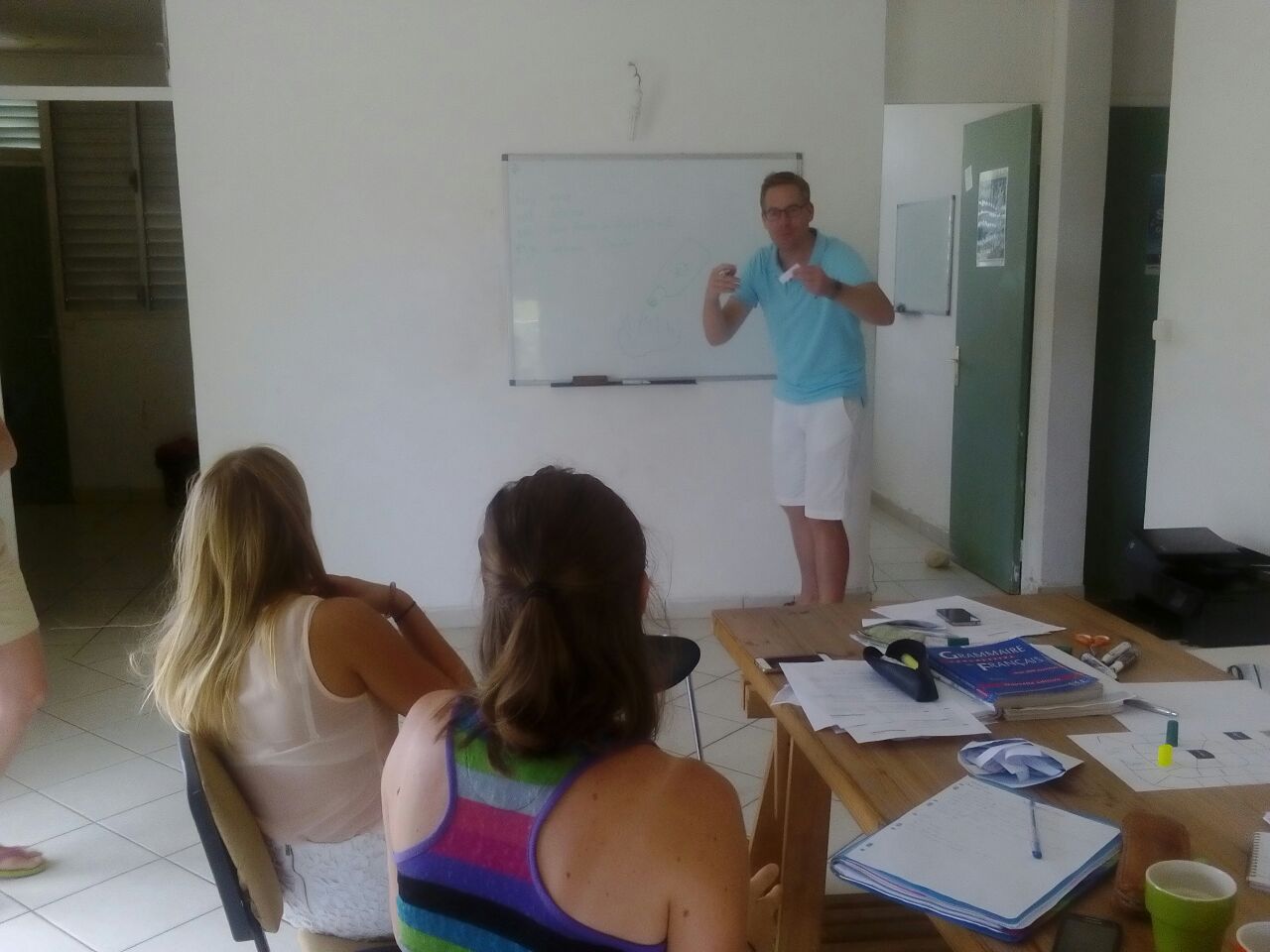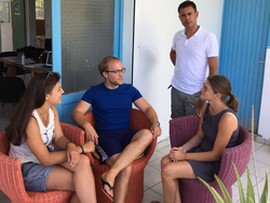 Created to meet the needs of those who wish to learn French, the Centre Caribéen de Langues welcomes you to a tropical paradise. We cater for your individual needs by offering classes in small, concentrated groups with engaging and enthusiastic teachers. Situated in Sainte-Anne, Guadeloupe, our school enables you to study whilst enjoying a relaxing Caribbean holiday. Just a 10 minute walk to the center of Sainte Anne and a 5 minute walk to the Caravelle beach, we are located on quite possibly the most beautiful part of the island.
The school is a pleasant and relaxed environment with a friendly atmosphere. We have a large terrace, plenty of fresh air and an ocean view. It's the perfect place to benefit from the diverse backgrounds and experiences of your classmates as we host an international clientele, which means that French is the language principally used in and outside the classroom. We have a variety of classes from which you can choose between general group courses, classes "en famille" or private and specific courses. Just let us know!
- Guadeloupe is, without doubt, the most interesting island of the Antilles!
- Intimate atmosphere, and new friends from all round the world
- Skilled, cheerful teachers who are professional and experienced
- We will take great care to choose the best accommodation and/or host families for you
- Small library with books and DVDs, free internet connection, tea and coffee available
- We can recommend Guadeloupe's hidden corners for you to explore
- Need something special? No problem, we are here to help
Our approach is aimed at skill acquisition in understanding and producing French; it also focuses on learners' autonomy . Courses are personalized for students with weekly reworking of the groups, based on the needs of students. If no group corresponds to the level of a student then individual (face to face) lessons are provided with reduced hours.
Personalized level testing is done on the first day of class. This includes an oral evaluation and, when applicable, a written one.
Our method focuses on understanding and speaking "real life" French, and also on learners' practical skills. Our courses give you the opportunity to improve your written and oral skills. The French you learn is standard and for daily use or the professional arena. Material provided, 6 students maximum per group.
Type A
Hours: 20h/week

Timetable: From 8 to 12 am
Type B
Hours: 10h/week

Timetable: From 8 to 10 am if available or 13 to 15 pm

Private Courses:

one to one or one to two
Learn French at your own pace. Ideal for those who have other activities planned. A program adapted to your individual communication needs. You can add more people to your individual package, like family members, friends, or colleagues. We offer tailormade courses that are closely related to your professional field or area of interest. For example, Business French, social sciences/journalism, teacher training, tourism, exam preparation, etc. Material provided, classes at school or at home.
Type C
Hours: 10h/week

Timetable: Flexible

Type D
Hours: 20h/week

Timetable: Flexible

Bildungsurlaub

for German students
Type E
Hours: 20h in a Group + 5h private
Timetable: 8 to 12 am and 2 to 3 pm Please ask for more details or special requirements
Our classes are based on
6 levels
, according to those outlined by the Common European Framework Reference for languages, promoted by the
European Council
to best meet your expectations.
We closely monitor and test students to find out their exact level.
You learn to understand and use familiar and daily expressions as well as very simple statements which aim to satisfy concrete needs.
You learn to introduce yourself or someone else and ask questions to somebody about him-her (living place, relations, what belongs to him-her).
You learn to answer the same kind of questions as above.
You learn to interact in a simple way provided the other person speaks slowly and clearly and is prepared to repeat or rephrase things.
You learn to understand the main points of clear standard speech on familiar matters regularly encountered in work, school, leisure.
You learn to deal with most situations likely to arise whilst travelling in an area where the language is spoken.
You learn to hold an unprepared conversation on topics that are familiar or of personal interest.
You learn to connect phrases in a simple way in order to describe experiences and events, dreams, hopes and ambitions.
You can briefly give reasons and explanations for opinions and plans.
You learn to understand extended speech and lectures and follow even complex lines of argument provided the topic is reasonably familiar, the main contents of concrete or abstract topics in a complex text, including a technical discussion in your speciality.
You learn to interact with a degree of fluency and spontaneity that enables regular interaction with a native speaker.
You learn to present clear, detailed descriptions on a wide range of subjects related to your field of interest. You learn to explain a viewpoint on a topical issue giving the advantages and disadvantages of various options.
You learn to understand long and complex factual and literary texts, appreciating distinctions of style. You learn to understand implicit meanings.
You learn to express yourself fluently and spontaneously without much obvious searching for expressions.
You learn to use language flexibly and effectively for social and professional purposes.
You learn to present clear, detailed descriptions of complex subjects integrating sub-themes, developing particular points and rounding off with an appropriate conclusion.
You have no difficulty in understanding any kind of spoken and written language.
You learn to summarize facts and arguments from oral and written sources in a coherent way.
You learn to express yourself spontaneously, fluently and precisely. You learn to convey finer shades of meaning in relation to complex subjects.

The same bungalow can have up to 8 different weekly rates depending on the time of year. For peak season (December January February) it is better to book early in order to get your lodging of choice. 4 criterias determine the price:
Distance from the beach
Season
Number of people and size of the room
Comfort level
Price examples below are in Euros and per week:
Studio from 420 €

Bungalow from 600 €


Air conditioned bedroom or fan. Private bathroom. Living with a French family is a great way to improve your French and to experience the local culture. We carefully select comfortable accommodation with welcoming families.
Bed and Breakfast (245 €)

Half board (315 €)


Guadeloupe is a French department located in the West Indies. The island is in fact two islands that form the shape of a butterfly (Grande-Terre and Basse-Terre):
Basse-Terre is the home of Guadeloupe's capital city also called Basse Terre. This side is mountainous and receives most of the rain. Here you find the national park, the rain forest with spectacular waterfalls as well as the volcano.
Pointe-à-Pitre, Guadeloupe's largest city, is situated on Grande-Terre. This island is mostly flat and rocky made up of limestone and coral, chaparral forests with a rather dry climate. It is here that we find some of the best beaches.

The Weather
We have only two seasons in Guadeloupe: one called "carême" or dry season which lasts from January to June and the wet season which runs from July to December. We have an average temperature of 27° c (80.6° f), highs of 32° c (89.6° f) and rarely less than 20° c (68° f). Eastern Winds, called "trade winds", contribute to the consistent moderate tropical heat.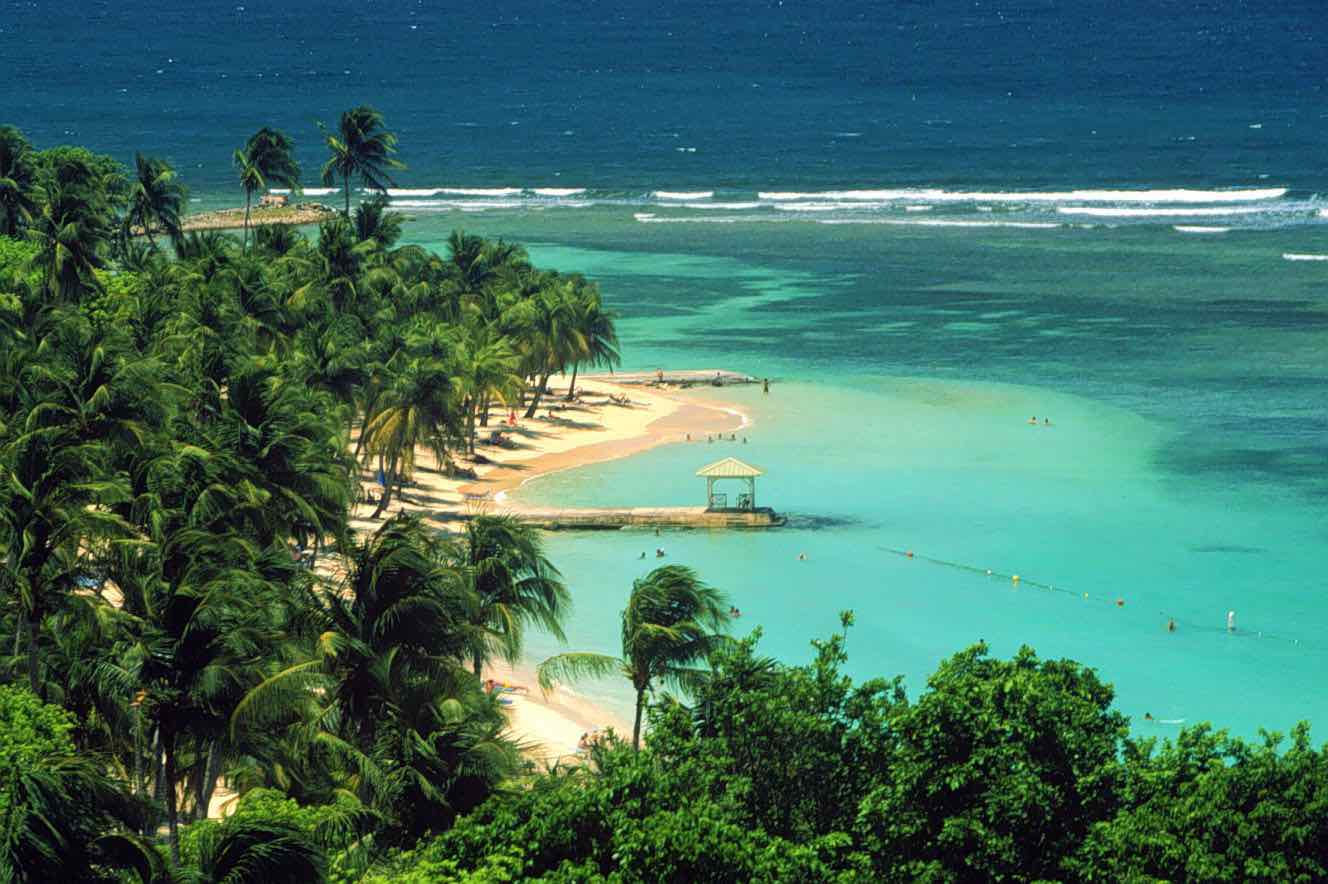 Sainte-Anne

and it's activities
Sainte-Anne is located about 20 kilometers from the airport. In this charming little town, you will find breathtaking ocean views of clear blue green waters, a lively market selling local produce, spices and souvenirs and plenty of places to eat or have a cool drink. The large white sand beach is protected by a natural coral seawall, which keeps waves and tide to a minimum.
During the afternoon and at weekends, you can take advantage of a great panel of possible activities: Beaches, hiking, surfing, windsurfing, sailing, golf…
Opportunities to go out on evenings can be found in Sainte-Anne and the surrounding area : Salsa, concerts, board games, etc. This is a nice way to meet new friends.
We can advise you on the most interesting sites to take advantage of. We can also put you in contact with trustworthy professional guides or agencies with qualified staff.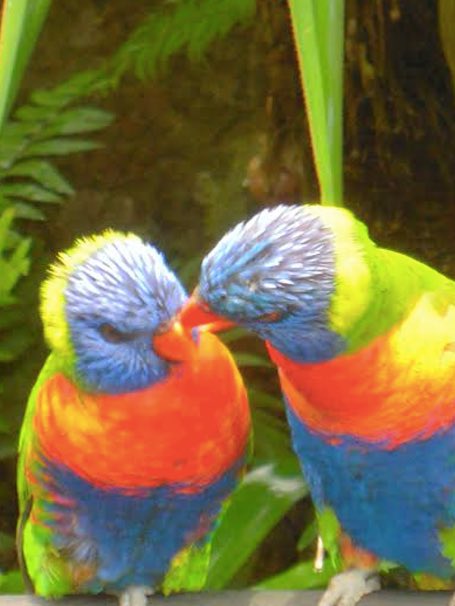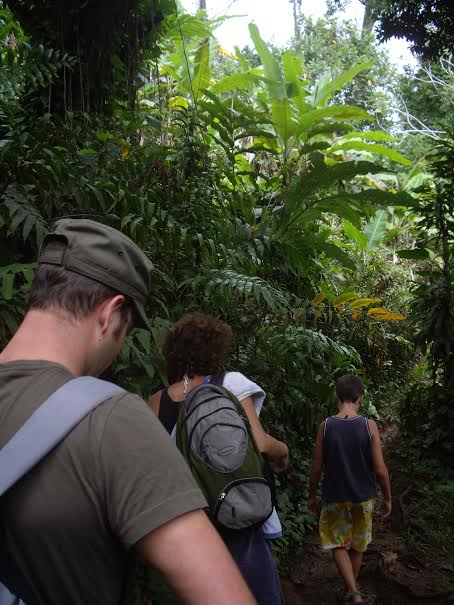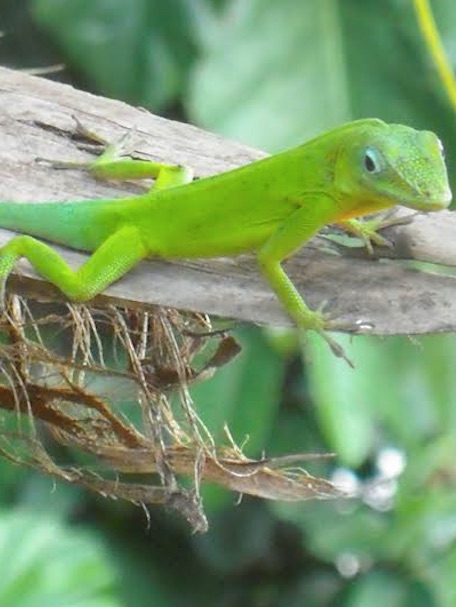 Our students opinion is really important for us. We always aim to provide the best studying experience possible. Here are a few reviews from some of our students :